CRM for Logistics and Transportation Management System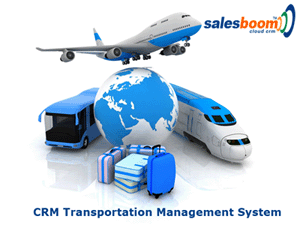 Transportation and Logistics Services cover a range of activities dealing with how resources are acquired, and transported in addition to how they are managed while in transit along the supply chain. Today's transport services represent global activities with complex partnering and logistical relationships all operating within tight time constrains. It is a competitive industry and customers typically expect competitive pricing offers in an effort to enhance their own sales activities.

Managing and leveraging market information and partner relationships is paramount to the ability of companies to maintain attractive pricing and delivery options.
CRM for logistics companies can enhance Transportation Logistics Service business lines in operations, vehicle and infrastructure management. It encompasses interaction and activities at all nodes in the context of policy, regulation and contract requirements.
Salesboom CRM for logistics industry offers an opportunity to build intelligent interfaces with all contacts along business lines. This includes such things as sales and marketing, warehouse management, customer and partner management, purchasing and contract management. Undertaking Enterprise Resource Management (ERP) activities that include fully integrated CRM solutions, it is possible to address operational deficiencies and improve business intelligence for greater operational success.
Advantages of Salesboom Cloud CRM Transportation Logistics Solution
Improved productivity
Well-developed and thought out CRM Logistics software system always helps pre-define some general workflows for every department and automate administrative tasks. Using it, your staff members will spend less time on filling forms, making quotes & proposals, creating reports, running calculations and will thereby raise their productivity.
Systematic way to track business activity effectively
CRM solution helps understand when and what is needed to be performed for which customers. With the help of this tool you are able to unify all your business areas and thus track them in one place. Leveraging this market information, a logistics company will be able to maintain competitive pricing and delivery options against its competitors.
One source for all the necessary data
A CRM system allows you to have access to constantly updated information for decision-making and communication between staff members and departments with different office locations. It's an opportunity to build intelligent customized interfaces with all contacts along business lines available by CEOs, CFOs, CIOs, and line managers.
Measurability of marketing and sales activity
CRM services can help transportation and logistics business capture better understanding of customer needs and behavior. This will give a possibility to manage effectively time, business resources and efforts which then benefits clients and overall business.
Individual customer service
Industry-based CRM platform gives a clear road map for effective communication with partners or clients and provides access to industry best practices. Knowing your customers' needs and the main points to contact them you can identify major clients increasing their loyalty and mitigate the possibility of relationship with irresponsible customers.
Automated information updating
CRM software helps benefit business profitability focusing on timely updating customer information and fast order processing. It also allows to organize efficient shipping of FCL/LCL freight and delivery of dangerous/perishable goods.
Ensuring safety of shipments
Due to cross-globe operations and various regulatory systems in all the different countries it's usually hard to propose on-time delivery and 100% safety of goods. Customized Cloud CRM system can have integration with electronic databases such as Transit MRN to provide information about current status and location of the cargo.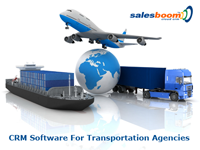 Taking into consideration all the above mentioned advantages, it's evident that a customized Cloud CRM system can drive up profitability and provide a systematic way to measure and control everything that is happening in your business regarding communication and relationships with customers.
A review of the table below will offer some insights to areas that benefit from an integrated CRM Solution and help uderstand the importance of CRM in logisstics.
BUSINESS
CRM CAPACITY - TRANSPORTATION LOGISTICS SERVICES
Customer Base

CRM adaptability to manage all types of orders:

Large customer volume – many small shipments
Lower customer volume – large shipment orders

Agent and claims reconciliation
Use CRM to track settlement and claim activities and create reports for AP/AR processing based on business rules
Risks
Mitigate globalization, outsourcing and shrinking cycle times by building solutions that maximize savings and house solution options to manage the cost and complexity of transportation operations.
E-Services
Offer customers and partners an opportunity for on-line, multi-channel, transactions.
Integration Technology and Programming Tools
There are many businesses with unique operational needs, and many in the transportation industry tend to acquire a strong IT department in order to address both unique and standard requirements for operations. Salesboom CRM logistics tracking uses Service Oriented Architecture (SOA) and offers a web services API with AJAX/COMET controls for highly flexible integration and customization capacity. This translates into savings on implementation , integration and customization because there is no proprietary interface to overcome. It is optionally possible to undertake both user and professional customizations.
Reporting and Analytics

Offer transportation and logistics,staff reporting and analytic tools to provide operational and customer insight.
Configure a data warehouse for reporting on customer, sales, marketing, service and product data.
Utilize analysis tools to understand average deal size and asset utilization
Outlook integration

Shipment Tracking

Manage routing, 1-time ship, and split&merge
Tightly integrated cargo tracking system
Address gaps in standard applications with CRM tools

Marketing

Multistage and multichannel campaign management
Enable collaborative transportation services marketing
Streamline campaign management and planning activities
Personalize offers
Measure marketing results
Utilize customer segmentation for targeted marketing

Sales
Empower customer service agents to identify and action cross-selling and up-selling opportunities and to resource information quickly to enhance sales activities.
Employee and Partner Relationships

Employee Management

Recruiting activities
Training activities
Support management activities
Employee life-cycle
Share Transportation Industry rules and regulations and best practices

Partner Management

Share clear and up-to-date information with service providers in supply chain
Distribute sales leads and service requests
Reduce calls for information and clarification with access to good information

Customer Relationships
Develop and enhance processes to improve assistance and access to resources for products and services
Billing

Consolidate receivable/payment activities in CRM system
Incorporate partner billing systems for confirmation reporting and billing transactions

Multi-Channel e-Services

Supply chain
Mileage on demand
Online documents
Online rate schedule
Online load order and tracking services
Customer and partner portals
Equipment repair
Survey

Sales

Seamlessly share information across fields and partner networks
Generate customized proposals and quotes
Automate triggers for sales activities for consistent sales and service
Accessible and current data on pipeline status, win rates and customer profitability
Deploy pricing changes quickly and consistently across channels
Secure CRM Information Exchanges
Salesboom CRM offers secure information holdings accessible based on highly scalable permissions protocols. It is possible to protect resources appropriately and share based on organizational need and logistical requirements. Salesboom CRM also offers Audit Trail functionality built into every item on the system. This supports security processes and offers a tool that can identify any information changes, access and sharing patterns (and owners) on the system. Audit Trail is available at any time for review and reporting purposes and to demonstrate due diligence in adherence to legal, financial and commercial requirements in the Transportation Logistics Industry.
Continuous Improvement
Embrace continuous improvement strategies with Salesboom CRM for Logistics industry. Use the CRM tools to identify and schedule process changes without downtime or user overload. Step away from the constraints of fixed solutions. Salesboom offers support for rapid configuration, integration of existing systems and processes as needed. With Salesboom CRM software you acquire the capacity to provide the following supports within a continuous improvement model. Salesboom CRM is as flexible as your organization needs to be.
Consider the opportunities for improvement in the following:
Integrate cross-functional systems
Capture how your customers define quality
Design customized service strategies
Manage and schedule follow-up sales calls
Track customer contact so all sources and types of contact are included and viewable by system users
On-line billing and rate plan services
Self service tools
Up-to-date service information and 24/7 assistance to employees/partners/customers
Managing and scheduling maintenance, repair, and on-going support
Collaborative customization or real-time customization
Identify and resolve potential problems quickly
User-friendly mechanisms to register customer complaints
Address service deficiencies
Track customer interests and personalize product offerings
ROI
Guarantee cost containment through streamline production and distribution operations using front and back end tools as part of standard software offerings. Guarantee visibility across business lines, from finance to manufacturing, across the supply chain with Salesboom CRM for Logistics industry.
Professional Services - CRM Custom Solutions
Salesboom software and Professional Services will address specific requirements for Transportation Service solutions that automate transportation and logistics processes on time and within budget while factoring in regulatory constraints.
Salesboom CRM will deploy a solution that enhances services and processes so you can achieve positive ROI in as short a time as possible:
Software Solution – our team will help develop CRM plan, strategic placement and requirements development
Identify and automate business processes
Software and/or process customization
Integration of CRM Software (with existing software)
Cleanse/Import Data
Reporting on implementation/deployment
Professional Training Services and Support Services
The Salesboom Platform:
Web Services with Service Oriented Architecture (SOA)
Optional Customization - Capacity for user or professional customization and is fully extensible
Development and Integration - Web Services API and AJAX / COMET controls are system standards.
Cost control - costs are contained because the platform is proven both flexible and stable
Partner Networks - An extensive partner network of over 125 different solutions providers
Legacy - Salesboom has an API that facilitates integration for web based CRM/ERP solutions with existing front and back office systems
Remember, Salesboom.com provides the tools transportation companies need to manage successful marketing campaigns, find new distribution opportunities, run the entire sales pipeline, and enhance customer service and support. Simplify your entire business processes and workflows to deliver exceptional customer experiences, minimize operational costs, and drive growth and profitability.
Salesboom CRM software tracks all clients' transactions so you can improve marketing and sales results and make more accurate forecasts rely on seasonal and supply chain trends. As your centralized repository of client, vendor, and partner information, Salesboom can help you strengthen relationships, and gain competitive advantage over all other transportation companies.
Our online CRM solution built to handle small, medium and large companies, we offers transportation management that is comprehensive and accessible from anywhere through the web.
Salesboom CRM Software is adopted and used by large retailers, distributors, and manufacturers to run and control the flow of goods in and out of the warehouse. Salesboom is a Web-based system solution that we recommend to buyers looking for an affordable CRM Software, among many other easy-to-use features. We really like the fact that Salesboom cloud CRM software supports mobile devices. Our CRM system can also be customized depending on the company's' particular warehousing and transportation needs.
Salesboom is a powerful supply chain system solution assisting organizations with their labor, transportation, and warehouse management.
Once you truly gain full visibility into your company's business processes, you'll never want to go back to the dark again. We guarantee it. Take a Free CRM Software 30-day Trial today, or contact us directly for more information: 1.855.229.2043 (1.855.229.2043) or via e-mail at sales@salesboom.com.
| | |
| --- | --- |
| | Signup for The Salesboom CRM Newsletter: |
| | |
Cloud Sales Software Products